2-Day Cappadocia Tour from Istanbul: A Journey into Fairy Tale Landscapes and Ancient Wonders
Embark on an unforgettable 2-day Cappadocia tour from Istanbul—a captivating expedition that whisks you away from the vibrant cityscape to the enchanting realm of Cappadocia's surreal landscapes, ancient rock formations, and cultural treasures. This carefully crafted itinerary promises to immerse you in the heart of Cappadocia's magic and heritage, leaving you with memories that will linger long after the journey ends.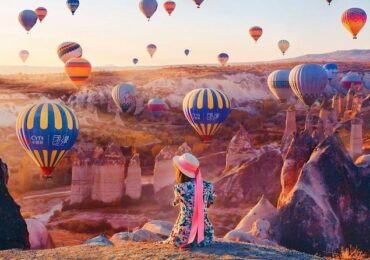 Day 1: Istanbul to Cappadocia
Early Morning Departure: Your adventure begins with an early morning flight from Istanbul to Cappadocia. As you ascend through the skies, anticipate the wonders that await you in this land of fairy chimneys and unique topography.
Arrival and Exploration: Upon arrival in Cappadocia, you'll be greeted by our local guide and transferred to your charming hotel. After settling in, embark on an exploration of the Göreme Open-Air Museum—an UNESCO World Heritage Site that showcases ancient rock-cut churches adorned with intricate frescoes.
Lunch and Cultural Immersion: Savor a delightful Turkish lunch at a local restaurant, immersing yourself in the flavors of the region. In the afternoon, visit a pottery workshop to witness the traditional craftsmanship that defines Cappadocia's heritage.
Sunset Views and Night's Rest: As the sun begins to set, head to a panoramic viewpoint to witness the mesmerizing sunset over Cappadocia's otherworldly landscape. Return to your hotel for a restful night's sleep, ready to embrace the wonders of the next day.
Day 2: Balloons and Underground Mysteries
Hot Air Balloon Adventure: An early start promises an exhilarating hot air balloon ride—a highlight of your Cappadocia experience. As you ascend into the sky, marvel at the dawn breaking over the fairy chimneys, valleys, and vineyards below.
Breakfast and Subterranean Exploration: After your balloon adventure, enjoy a hearty breakfast at the hotel. Then, embark on a journey into the underground marvels of Cappadocia, exploring the intriguing Derinkuyu Underground City—a labyrinthine complex that once housed communities in times of danger.
Lunch and Farewell: Indulge in a delicious local lunch before heading to the Pigeon Valley, known for its unique rock formations and pigeon houses carved into the cliffs. As your exploration comes to an end, bid farewell to Cappadocia and its wonders.
Return to Istanbul: With cherished memories in your heart, you'll be transferred to the airport for your return flight to Istanbul, carrying with you the captivating tales of your Cappadocia adventure.
You can check available 2-Day Cappadocia Tour from Istanbul and price by clicking the link below:
A Journey of Wonders and Discovery:
The 2-day Cappadocia tour from Istanbul promises an immersive exploration of a land that seems plucked from a storybook. From ancient rock-carved churches to panoramic balloon rides, from underground cities to enchanting valleys, this journey will ignite your senses and leave you with a profound appreciation for the beauty and history of Cappadocia.
Escape to Cappadocia's Mystical Beauty and Unearth the Secrets of the Past: A 2-Day Adventure that Transcends Time and Imagination.