3-Day Cappadocia Tour from Istanbul: Immersive Exploration of Otherworldly Wonders
Embark on a captivating 3-day journey from Istanbul to Cappadocia—an enchanting region that beckons with its surreal landscapes, ancient history, and cultural treasures. This thoughtfully crafted tour invites you to escape the urban bustle and immerse yourself in the captivating beauty of Cappadocia's unique topography and heritage.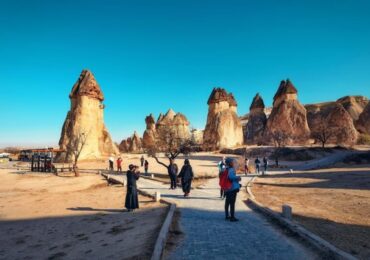 Day 1: Istanbul to Cappadocia
Morning Flight: Your adventure begins with a morning flight from Istanbul to Cappadocia. As you soar over the Anatolian plains, anticipation builds for the wonders that await.
Exploring the Underground: Upon arrival, you'll be greeted by our local guide and transferred to your hotel. After checking in, venture into the depths of Cappadocia's underground cities—an intricate network of subterranean dwellings that once served as refuge and shelter.
Day 2: Balloons and Historical Marvels
Early Morning Balloon Flight: The second day dawns with an early wake-up call, offering an exhilarating hot air balloon ride over Cappadocia's iconic landscapes. As the sun rises, the fairy chimneys and valleys come to life in breathtaking hues.
Valleys and Villages: After breakfast, embark on a journey through Cappadocia's valleys. Explore the mystical Rose Valley and the otherworldly Pasabag (Monks Valley), where unique rock formations tell tales of centuries past. Engage with local artisans at a pottery workshop to witness traditional craftsmanship.
Day 3: Cultural Immersion and Return to Istanbul
Open-Air Museum and Farewell: On your final day, discover the Goreme Open-Air Museum—a UNESCO World Heritage Site featuring rock-cut churches adorned with ancient frescoes. Delve into Cappadocia's religious and artistic history.
Farewell to Cappadocia: As your 3-day adventure comes to a close, take some time to savor the panoramic views of Cappadocia's landscapes one last time. Bid farewell to the region's captivating beauty.
Return to Istanbul: You'll be transferred to the airport for your return flight to Istanbul, carrying with you memories of Cappadocia's enchanting landscapes, historical marvels, and warm hospitality.
You can check available 3-Day Cappadocia Tour from Istanbul and price by clicking the link below:
A Journey Beyond the Ordinary:
The 3-day Cappadocia tour from Istanbul is an immersive experience that encapsulates the essence of this mystical region. From soaring above the valleys in a hot air balloon to descending into ancient underground cities, from exploring historical sites to connecting with local culture, this tour promises a transformative adventure that will stay with you long after you return home.
Experience the Magic of Cappadocia: A 3-Day Escape that Takes You from Urban Life to the Enchanting Wonders of the Anatolian Landscape.