Cappadocia Erciyes Ski Resort: Where Winter Adventures Meet Majestic Peaks
Nestled amidst the stunning landscapes of Cappadocia, the Erciyes Ski Resort offers a gateway to thrilling winter escapades and panoramic mountain vistas. This alpine haven transforms the region's unique beauty into a winter wonderland, inviting outdoor enthusiasts and snow lovers to embrace the thrill of skiing, snowboarding, and snow-filled fun.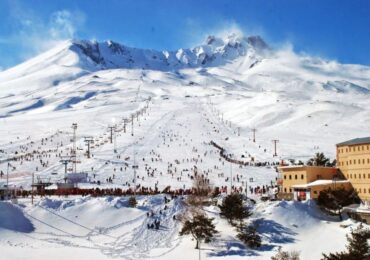 Snow-Covered Splendor:
Erciyes Ski Resort's towering peaks and snow-cloaked slopes create a picturesque backdrop that is a stark contrast to Cappadocia's famed rock formations. The resort's elevation and favorable snowfall make it an ideal destination for those seeking a snowy haven in the heart of Turkey.
Skiing and Snowboarding:
Erciyes Ski Resort caters to skiers and snowboarders of all skill levels, from beginners to seasoned pros. The resort features a range of well-groomed slopes, varying in difficulty, ensuring that everyone can enjoy the thrill of gliding down the mountainside amidst breathtaking scenery.
Modern Facilities:
The resort boasts modern amenities and facilities that enhance the overall experience. From well-maintained ski lifts to rental shops offering the latest gear, Erciyes ensures that visitors have everything they need for a seamless and enjoyable adventure on the slopes.
Panoramic Views:
As you ascend the peaks via ski lifts, you'll be rewarded with awe-inspiring panoramic views that stretch across the snow-covered landscapes and Cappadocia's distinct geological wonders. The juxtaposition of snow and rock formations creates a visual spectacle that is truly unique.
Snow Activities:
Beyond skiing and snowboarding, Erciyes offers an array of snow-centric activities. Snowshoeing, snowmobiling, and tubing provide alternative ways to experience the winter wonderland and embrace the joy of playing in the snow.
Après-Ski Delights:
After a day of exhilarating activities, the resort's cozy lodges and cafes provide a welcoming atmosphere to unwind and warm up. Savor hot beverages, indulge in hearty meals, and share stories of your adventures with fellow winter enthusiasts.
Accessibility:
Erciyes Ski Resort's proximity to Cappadocia makes it an enticing option for those looking to combine their winter getaway with exploring the region's other attractions. The resort's accessibility ensures that you can easily transition from skiing to exploring Cappadocia's cultural and natural wonders.
Embrace Winter's Magic:
Cappadocia Erciyes Ski Resort invites you to experience the thrill of winter against the backdrop of stunning landscapes. Whether you're a seasoned skier or a first-time snow enthusiast, the resort promises a blend of adventure, natural beauty, and snow-filled delight.
Embrace the Winter Adventure, Conquer the Slopes, and Immerse Yourself in the Snowy Splendor of Cappadocia Erciyes Ski Resort.