Fethiye 12 Islands Boat Tour: Navigating Paradise's Gems
Embark on a maritime adventure that unveils the allure of Fethiye's stunning coastline—the 12 Islands Boat Tour. Set sail on turquoise waters, discover hidden coves, and explore the beauty of each island's unique character, creating unforgettable memories along the way.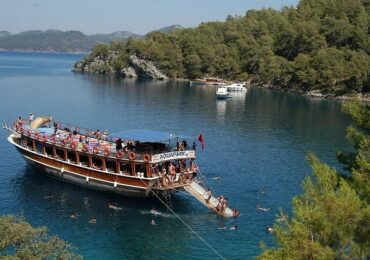 Tour Highlights:
Morning Departure:
Your day begins with a morning departure from Fethiye's harbor as you board a traditional Turkish gulet—a wooden sailing vessel.
Scenic Cruising:
Cruise along the tranquil waters, surrounded by panoramic views of the coastline, rugged cliffs, and verdant landscapes.
Island Exploration:
Discover Hidden Coves:
Anchor at secluded bays and coves, providing the perfect opportunity for swimming, snorkeling, or simply basking in the sun.
You can check available Fethiye 12 Islands Boat Tour and price by clicking the link below:
12 Islands Adventure:
Island Hopping:
The tour takes you to several of the 12 Islands, each with its own charm and character, ranging from lush greenery to rocky shores.
Lunch on Board:
On-Board Delights:
Enjoy a delicious lunch on board the gulet, featuring fresh seafood, Turkish specialties, and a variety of dishes to satisfy your taste buds.
Relaxation and Exploration:
Sunbathing and Relaxation:
Bask in the sun on the deck of the gulet, enjoying the gentle rocking of the waves and the panoramic vistas.
Photography Opportunities:
Capture postcard-worthy moments as you sail by iconic landmarks, pristine beaches, and dramatic coastal cliffs.
Swimming and Snorkeling:
Underwater Exploration:
Dive into the crystal-clear waters for a refreshing swim or engage in snorkeling to discover the underwater wonders.
Sailing into Sunset:
Golden Hour:
As the day draws to a close, witness the magical colors of the sunset casting a golden glow over the islands and the water.
Return to Fethiye:
Evening Return:
As the sun sets, return to Fethiye's harbor, bringing an end to a day filled with exploration, relaxation, and maritime beauty.
End of Tour:
The Fethiye 12 Islands Boat Tour concludes with the return to the harbor, leaving you with memories of turquoise waters, hidden coves, and the beauty of the islands. As you reflect on the day's adventure, you'll carry with you the sensation of the sea breeze, the tranquility of the islands, and the magic of Fethiye's coastal allure.