Fethiye Marina: Where Tranquility Meets the Turquoise Waters
Discover the heart of Fethiye's coastal charm at the Fethiye Marina, where the idyllic blend of sparkling waters, vibrant boats, and waterfront promenades create a picturesque setting that encapsulates the essence of this coastal town.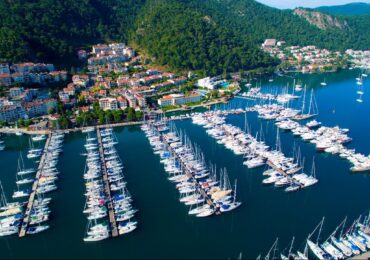 Marina Vibes:
Morning Stroll:
Start your day with a leisurely stroll along the marina's promenade, taking in the serene views and fresh sea breeze.
Boat Watching:
Admire the array of sailboats, yachts, and traditional Turkish gulets gently swaying in the water, creating a vibrant tapestry of colors.
Cafés and Restaurants:
Seafront Dining:
Choose from a variety of charming cafés and restaurants that line the marina. Enjoy a meal with a view of the tranquil waters.
Turkish Delights:
Savor traditional Turkish cuisine, seafood delicacies, or international dishes while soaking in the marina's atmosphere.
Shopping and Souvenirs:
Local Boutiques:
Explore the boutiques and shops near the marina, offering everything from stylish clothing to unique handicrafts.
Boat Tours:
Boating Adventures:
Book a boat tour from the marina to explore the coastline, nearby islands, and hidden coves.
Sunset Cruises:
Opt for a romantic sunset cruise to witness the sun sinking below the horizon, painting the sky with hues of gold and orange.
Waterfront Ambiance:
Evening Ambiance:
As the sun sets, the marina comes alive with a relaxed and inviting ambiance. It's the perfect place for a leisurely evening stroll.
Photography Spot:
Capture the marina's charm as it transforms under the golden hour of sunset. The reflections on the water create a picture-perfect scene.
Marine Activities:
Scuba Diving and Water Sports:
Explore the underwater wonders with scuba diving or partake in thrilling water sports like jet skiing or parasailing.
Social Hub:
Gather and Relax:
The Fethiye Marina is a popular meeting point for both locals and tourists. It's a place to socialize, relax, and take in the coastal beauty.
End of the Day:
As you leave the Fethiye Marina, you'll carry with you the tranquil memories of glistening waters, the sounds of clinking masts, and the peaceful ambiance that has made this coastal gem a beloved destination. Whether you're looking to enjoy a meal, shop for souvenirs, or simply savor the beauty of the sea, the marina offers a serene haven where time seems to slow down, and the rhythm of the waves sets the pace.