Ölüdeniz Beach is a famous and stunning coastal destination located near Fethiye on the southwestern coast of Turkey. Here's some information about Ölüdeniz Beach: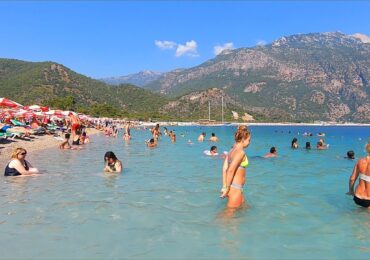 Breathtaking Beauty: Ölüdeniz Beach is renowned for its breathtaking beauty. The beach is known for its calm and crystal-clear turquoise waters, framed by a stunning backdrop of lush green hills and mountains.
Blue Lagoon: The most iconic feature of Ölüdeniz Beach is the Blue Lagoon, a sheltered and serene area with shallow, inviting waters. The lagoon's calmness makes it a popular spot for swimming, kayaking, and relaxation.
Paragliding Hub: Ölüdeniz is also famous for being a top paragliding destination. The steep Babadağ Mountain overlooks the beach, providing paragliders with stunning aerial views of the coastline and the surrounding landscapes.
Beach Activities: In addition to swimming and paragliding, visitors to Ölüdeniz Beach can enjoy a variety of water-based activities such as paddleboarding, snorkeling, and diving. The clear waters make it an ideal spot for exploring marine life.
Scenic Views: The area around Ölüdeniz Beach offers numerous vantage points for panoramic views. The Babadağ Mountain offers hiking trails for those who want to explore the area on foot.
Relaxation: The beach is well-equipped with loungers and umbrellas, making it a perfect spot for sunbathing and unwinding. Visitors can enjoy the gentle sea breeze and the sound of the waves.
Natural Reserve: Ölüdeniz and the Blue Lagoon are part of a protected natural reserve, ensuring the preservation of the pristine environment and its unique ecosystem.
Cultural Events: Throughout the year, Ölüdeniz hosts various cultural and sporting events, such as beach volleyball tournaments, music festivals, and more. These events add to the vibrant atmosphere of the area.
Local Cuisine: There are numerous beachfront cafes, bars, and restaurants where visitors can enjoy traditional Turkish cuisine and international dishes while overlooking the stunning coastline.
Accessibility: Ölüdeniz Beach is easily accessible from the town of Fethiye, which is approximately a 15-minute drive away. Shuttle buses and taxis provide transportation between Fethiye and Ölüdeniz.
Whether you're looking for a relaxing beach day, an adrenaline-pumping paragliding adventure, or a chance to explore the natural beauty of the area, Ölüdeniz Beach offers a diverse range of experiences that cater to various interests and preferences.